Tye's Engineering Projects
Our clients range from private home and land owners to residential and commercial developers to rural water, sewer, and road districts to government agencies to A/E associates and construction contractors.
---


Oregon Water Wonderland II Sanitary District Sewer Collection and Treatment Expansion, between Sunriver and La Pine, Oregon.
Tye Engineering provided civil engineering & surveying services for the Oregon Water Wonderland Unit 2 Sanitary district, which was $7.6 million dollar project serving an existing 1,000-lot development. Tye Engineering has been involved with the district from early planning staging and has completed a feasible study, and assisted with environmental assessments, land acquisitions, bond measures, and interim financing.
The collection sewer system consisted of vacuum sewers, individual pressure sewers, and standard gravity sewers. The treatment was a series of primary and secondary facultative lagoons with wintertime holding ponds. Disposal of treated effluent by means of spray irrigation with center pivot style irrigation.
---

Ranch at the Canyons, Terrebonne, Oregon.
This 1700 acre residential Tuscan Style Community is located at the base of Smith Rock State Park in Terrebonne, Oregon. We started working with the developers on this gorgeous project in 1999 laying out home sites & ranch buildings, roadways, utilities and water rights for the 500 acres of irrigated fields and vineyards. This is an on-going project aiding the homeowners association, developer and individual home owners in topography surveys and construction staking as it continues to grow.
---

Summit Crest, Redmond, Oregon.
Summit Crest is a 208 lot subdivision located on the western flanks of Forked Horn Butte in Redmond, OR. The development of Summit Crest required 1.2 miles of offsite sewer and water along with the formation of a Local Improvement District for reimbursement. Tye Engineering provided all of the planning, lot layout, grading, final road design, and utility design for the subdivision development.
---
American Pines Reservoir, Prineville, Oregon.
Tye Engineering provided the City of Prineville with the planning and construction of the new 1 million gallon welded steel reservoir, yard piping and 1,500 gallon per minute booster pump station which serve approximately 500 homes.
Photo to come.
---

Basecamp, Bend, Oregon.
This 3 phased 25 lot townhome subdivision project is located near the Deschutes River, Old Mill District and Downtown Bend. We have provided the initial topography surveying and mapping for architectural design, Civil Engineering for water, sewer and utility layout, subdivision plat map as well as construction staking.
---

Deschutes Solar Farm, Redmond, Oregon.
This 96 acre, 9.9 megawatt Solar Farm project is located between Bend and Redmond off of Highway 97. We prepared the initial topography surveying and mapping, ALTA/NSPS title survey, lot line adjustments mapping and legal descriptions, access road design, easements and construction staking.
---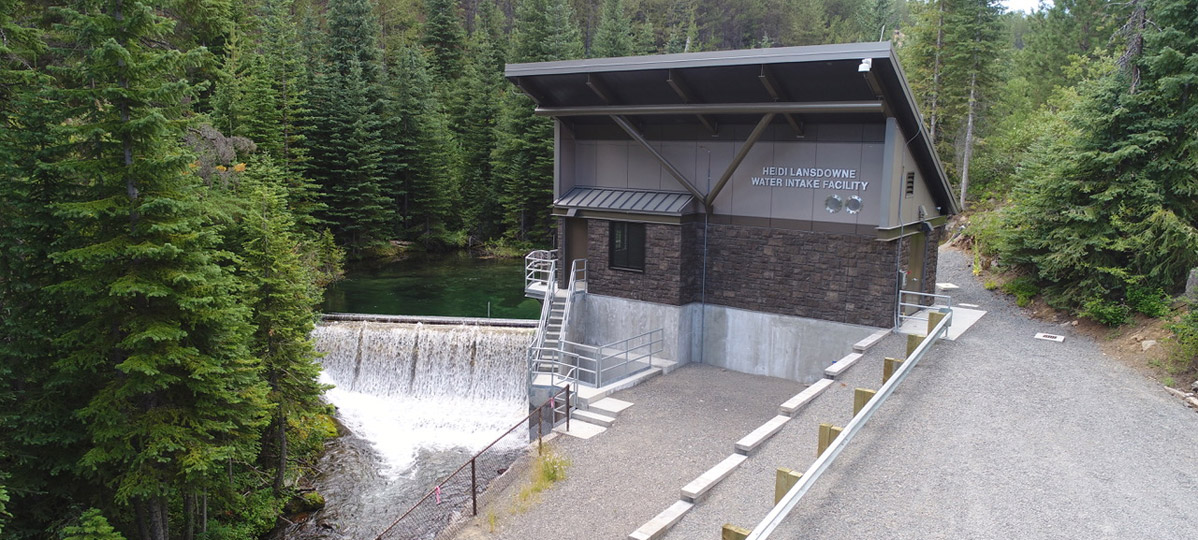 Bridge Creek Pipeline Replacement Project, Bend, Oregon.
Tye Engineering was contracted to provide construction staking for the replacement of old pipelines built in the 1920's and 1950's with 10 miles of new parallel 12" and 14" pipelines working with the General contractor staking the precise location of the 36" welded steel proposed pipeline with flowline elevations at every joint.